UK Dosimetry Audit Network
IPEM RTSIG Interdepartmental
The IPEM Radiotherapy Special Interest Group set up a National Interdepartmental Audit Network which comprises eight co-operative regional groups each with 5 to12 members covering the 66 departments. Each group arranges interdepartmental audits between each of the centres and the national audit group meets annually to coordinate audit activity across the UK. Each group works autonomously and only reports results between the individual departments involved in each audit. The regional groups can therefore design and conduct their own audits, as well as implementing national audits.

www.ipem.ac.uk
NCRI RTTQA
The NCRI Radiotherapy Trials Quality Assurance Team (RTTQA) designs and implements quality assurance (QA) programmes for all NIHR CRN Clinical Research Portfolio trials that include a radiotherapy component.
The RTTQA team was setup to ensure that patients in all NCRI radiotherapy trials adhere to a trial protocol, and are treated according to nationally and accepted standards. This is an integral part of radiotherapy clinical trials and serves to minimise variations ensuring clinical trial outcomes reflect differences in randomisation schedules rather than departures from the trial protocol. The team is closely linked with CTRad's Workstream 4 which leads on technical aspects of radiotherapy development.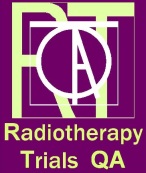 www.rttrialsqa.org.uk
Radiation Dosimetry Group, NPL
National standards laboratory with extensive experience of independent audit as well as providing the traceable dosimetry chain for the UK (and internationally).This group provides dosimetry traceable to in-house primary standards for these applications using dedicated facilities such as a clinical linac and high-dose irradiators as well as specialised Monte Carlo simulation tools. We perform research to develop new dosimetric capabilities following up the rapidly expanding variety of radiotherapy technologies like stereotactic and rotational therapies as well as for emerging modalities like proton and carbon ion therapy.

www.npl.co.uk/science-technology/radiation-dosimetry/